— April 18, 2017
So you're on the first page of SERP. Pretty cool but still not a time to sprinkle your SEO team with champagne – there is a lot more you can do. After all, you could be in the TOP 3, or even in the first place. What opportunities are often overlooked by SEO experts? And how to prevent these mistakes from happening? We have the answers. Read on!
SEO potential
Your semantic core and present search visibility data can help to predict the SEO results in the future. And even more – transform these results into conversion and leads.
Why and how it benefits you
1. Saves dozens of hours on SEO budgeting.
2. Convinces the most demanding clients.
3. Helps in developing a sound promotion strategy based on accurate data – traffic volume and leads quantity, as well as ROI in SEO.
It's simple:
1. Set the conversion, the revenue from one lead (the average deal size) and the current traffic.
2. Get an instant estimation of:
– the current traffic forecast based on the certain keyword rankings in search engines;
– how much money you need to attract the predicted traffic from Google AdWords (regions come into account);
– the number of leads you can get with the current traffic and conversion;
– leads cost, as well as the revenue forecast.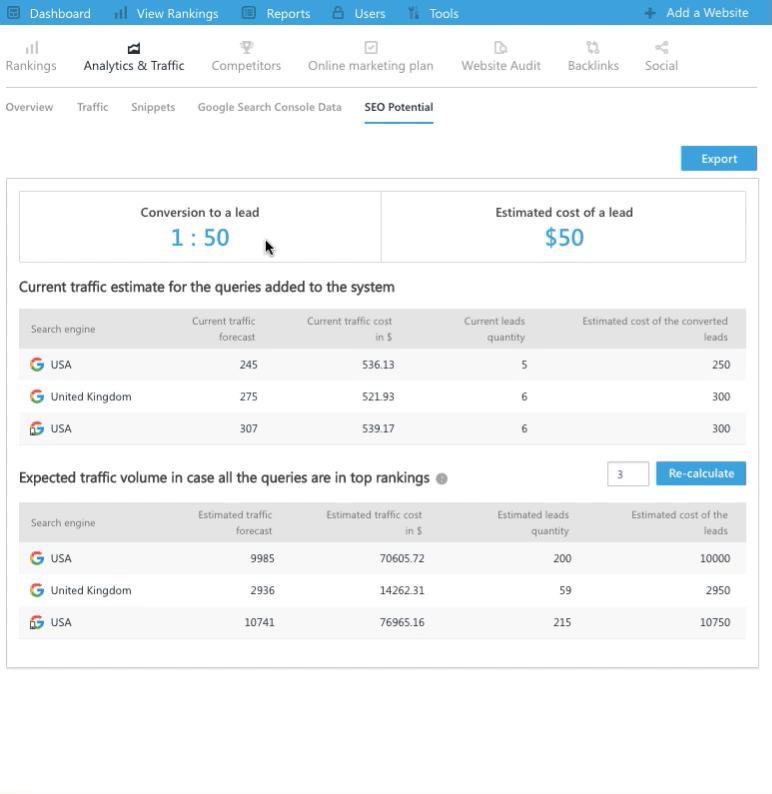 For digital agencies, this is an excellent tool – a simple and a clear estimate on SEO investments that could be used internally as well as in servicing clients. investing in SEO.
For business owners, this is an SEO business plan that will show the promotion perspective. It also helps you to discover the keywords that are deemed to be ineffective for you so you won't waste money on something that will not yield expected results.
For SEO pros, this is an opportunity to adjust the strategies to get better ROI and optimization.
Competitor SEO/PPC research
Why and how it benefits you


Find the keywords your competitors have lower rankings on. Develop a promo campaign with these keywords knowing ahead of the time that you are beating your competitors.

Discover your competitors' traffic cost assessment and use it to plan your own budget.

Look through the competitors' text ads, and enhance yours based on this information
It's the competitors who motivate you to develop. SEO/PPC research helps you to find out the competitor's keywords, estimate the number of clicks in Google, as well as analyze the keyword rankings change. Research a competition and launch the advertising in order to flip the clients.
In addition, this tool will show you the competitor's paid queries (their number, cost, and quality), as well as ads visuals. This will definitely help you to generate creative ideas and budget the promotion like a pro.
Mobile traffic
Why and how it benefits you
1. 15% of users go online only from mobile devices
2. 48% of consumers start mobile research with a search engine
3. 22% higher conversion goes from mobile devices
Mobile traffic becomes more and more popular, while mobile SERPs are relatively unoccupied. Of course, there are some niches where the mobile SEO doesn't work – such as electronics or expensive purchases. But everyone is searching for clothes, cosmetics, services – a mobile conversion here can reach 30%. By the way, don't forget that the mobile SERPs' semantics is lower – queries usually contain a couple of words.
What do we recommend? Track mobile SERPs separately and actively move forward to vacant fields. So, when your competitors start taking the mobile seriously, the TOP will be already occupied by you.
Original Source: SE Ranking
Digital & Social Articles on Business 2 Community
(46)